Balabushka Pool Cue Reviews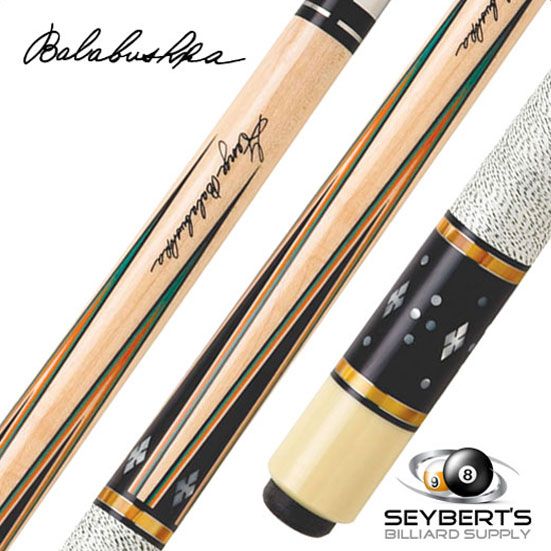 The name "Balabushka" became synonymous with Pool Cues when George Balabushka made his first cue but that momentous moment stayed under the Irish Linen wrap that he introduced which is a standard today in the industry.
The Russian immigrant, George Balabushka who landed at Ellis Island in 1924, when he was just 12 years old, and died in 1975 was posthumously inducted into the Hall Of Fame at the American Cue Makers Association in February 1993.
What made him such an impressive personality bestowed such an honor?
George Balabushka made some of the best Pool Cues ever and introduced unique innovations like the Irish Linen wrap, the Balabushka rings and several other design standards incorporated into cues manufactured by others.
Foray into Pool Cue making
During his marriage with the Pool Cue industry which lasted just 16 years, George Balabushka handcrafted about 1,200 cues which are today valued at thousands of dollars with one of his fetching the staggering amount of US $ 45,000 at an auction in 1998.
Most of the cues that he made are all collector items and are considered priceless now, though they may not have those intricate designs which are standards in Pool Cues they are all masterpieces of all time.
The family of George Balabushka and David Forman, the founder of Adam Custom Cues, has tied up in a relationship to uphold the name of one of the most excellent cue makers of all time, and give the world what he envisaged in a Pool Cue.
The legacy lives on
Pursuing the legacy of George Balabushka forward and to new dizzying heights, Pool Cues under the brand name "George Balabushka" manufactured in innovative six series, the Adam Cues, Break and Jump, Core, Era, GB, and SLE.
These are all masterpieces in their right and are just what any Pool player who knows his way around the Pool table would like in his hands to take on any opponent he chooses if he could only afford it.
"It's a Balabushka" – words that brought fame
Balabushka became a household name when Hollywood's acting icon Paul Newman, handed over a Pool Cue to popular actor Tom Cruise in the Martin Scorsese's 1986 movie "The Color of Money."
The few words uttered in that scene "It's a Balabushka" created unprecedented world demand for the Balabushka Pool Cue, and that upward trend has not diminished even a fraction as all Balabushkas made today uphold that image.
Apart from what George Balabushka made the Pool Cues made now under the Balabushka brand name endeavors to keep the same traditions of innovation in design and player preference and are made available at affordable prices.
Balabushka cue price
A Balabushka is available in the price range of US $ 225 for a "Direct Hit" Jump Cue in the Break and Jump series and rising to the staggering US $ 1,399 for an SLE2 – B, in the new SLE series.
Every Balabushka Pool Cue made today undergoes some of the most stringent quality controls to ensure that they stand up to what inspired George Balabushka to innovate standards which are intricate parts of any new Pool Cue.
When you stand beside the Pool table, you have nothing to prove yourself other than the cue in your hand, and when you start the game if your opponent notices your Balabushka, there is no doubt that he would tremble at his knees.
That is the power of the Balabushka which is what George Babushka the master cue maker envisaged when he started his small industry with his wife Josephine by his side in their small home in New York City.