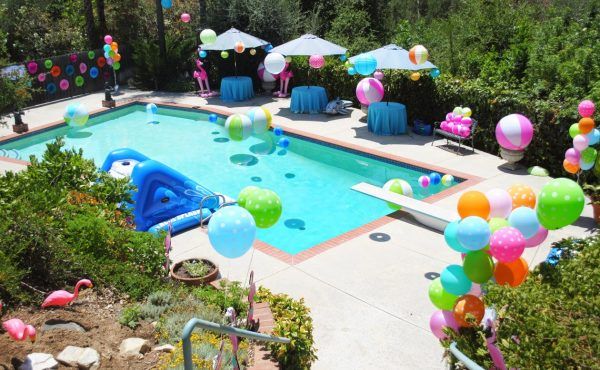 What is more fun than being a proud owner of swimming pool sitting back on your own home yard? You get to relax in your swimming pool, to tone up your muscles and most of all you can throw up pool parties whenever you want! Parties are often lovely gatherings which bring out family, friends and relatives together at one place. Pool parties are the best of all parties where both adults and kids can equally enjoy themselves. Are you planning to throw up a pool party? Then you might essentially find the following pool tips very useful!
Make a guest list
It is much easier to keep everything organized. Let's give it a start with making the list of guests. It is always better to invite a manageable number of guests. The number of guests can depend on the size of your swimming pool and the games or activities that you are planning to do.
See that the pool is well cleaned
You must clean your pool before the pool party so that it is fit to have a party. The water must be clean and pleasant so that the guests would enjoy your pool party without any hesitation.
Get all the necessary supplies
Make sure that you have all the necessary supplies for the pool party. Some of the most essential supplies are bathing suits, sandals, sunscreen, towels and sunglasses.
Decide the games and activities
Decide the suitable games for kids and for adults. You can refer to the preferences of the guests when deciding the games and activities so everyone would enjoy with their favorites. It would be fun if most of the games are water games since it is a pool party after all.
Food and drink
Everyone is going to be tired with all the games and activities to do. Some fresh fruit juice, popsicles and fresh fruit would be quite refreshing. Snacks and some BBQ by the swimming would be fun and mouthwatering.
Let's put some music
It is a party after all. Some music along with all your activities would make it a perfect pool party.
Decorations
Let's avoid complex decorations and make it look simple. A few pots by the swimming pool and a few flower pots that keep hanging by the swimming pool would be the ideal type of decors for the pool party.
Hope you enjoy the pool party with your loved ones. Memories are those which lasts forever and that is why you must create ones filled with wonderful memories. So, let's go and have the most wonderful pool party ever!